Is it possible to travel around Menorca by motorbike?
Menorca, the second largest of the Balearic Islands, concentrates, in its small size, a large number of attractions and natural wonders that are definitely worth a visit.
If you are wondering what to see in Minorca, we can certainly tell you that its splendid beaches are its main attraction, but also the beautiful towns and villages, parks and nature trails or archaeological sites should be on your list.
To be able to visit all this, it is advisable to hire a private means of transport that will allow you to reach every corner of the island in total comfort and freedom. Public transport in Minorca allows you to visit the larger towns and villages or the most important urbanized beaches, but with buses you will not be able to reach the most beautiful coves and beaches of the island.
Many people choose to hire a car in Menorca, but if you are traveling alone or as a couple you may wonder whether it is better to hire a motorbike.
So, to the question "Is it advisable to travel around Minorca on a motorbike?" the answer is yes, but with some precautions and tips to enjoy your trip in complete safety.
Thinking of renting a motorbike?
Discover MenorkMoto,
a local agency you can trust
Motorbike rental in Menorca: pros and cons
One of the questions most often asked by tourists who decide to visit the island and want to rent a private means of transport is: is it better to travel around Menorca by motorbike or by car?
Both options have their advantages and disadvantages. Read on and we will explain the pros and cons of renting a scooter in Menorca:
Advantages of renting a scooter in Menorca
Renting a scooter in Menorca has, without a doubt, some advantages. Here are some of them:
It avoids parking problems: especially in high season and in the towns and villages of Menorca, it is increasingly difficult to find parking for the car. In addition, the streets in the historic centers of Mahón and Ciutadella can be very narrow. For these reasons, the motorbike is the best means of transport for getting around.
The feeling of freedom: Motorbike lovers know that the sensation of freedom that you feel when traveling on two wheels is unique and impossible with a car. Surrounded by the sea breeze, getting around Menorca on a motorbike can be a unique experience.
Lower prices: a very important aspect when organizing a holiday is the budget. Renting a car in Menorca, especially during the month of August, can be very expensive, so if you want to save money, motorbikes for rent in Menorca are the best option for your needs.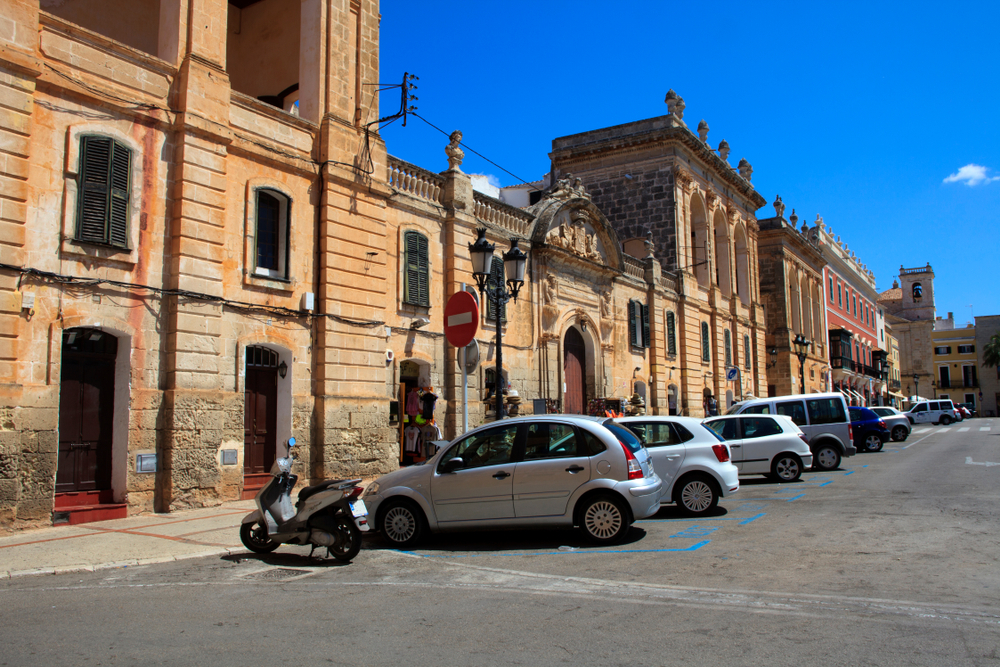 Disadvantages of renting a scooter in Menorca
We will now explain the disadvantages of renting a motorbike in Menorca:
Poor lighting and less than optimal conditions of some roads: we are talking about night time, when many of the roads in Menorca have no lighting at all, making the journey on a motorbike quite dangerous. Furthermore, although as a general rule the island's roads are in a perfect state of conservation and maintenance, some of the roads that lead to the most hidden coves may not be in a suitable condition for motorcycling.
Difficulty to carry bags, umbrellas, chairs, etc…: some of the most beautiful beaches of Menorca do not have any kind of service. To spend an ideal day on one of these beaches, you will have to take with you food, water, umbrella and anything else you need to enjoy yourself to the maximum. Carrying all this on a motorbike is quite complicated.
Low speed and low power: the most common is to rent a 125cc motorbike in Menorca. This type of vehicle does not reach very high speeds and, above all, they have a reduced power that makes it difficult to drive on the steep streets that are very common on the island.
Reduced motorbike hire at the airport of Menorca: motorbike hire at the airport of Mahón, in Menorca, is quite scarce, forcing tourists to take a taxi to their accommodation and then back home, increasing the budget of their trip. In addition, transporting suitcases to the hotel or flat, which in most cases will be far away, can be almost impossible.
Where to rent a motorbike in Menorca
Now that you know all the advantages and disadvantages, you may be wondering "Where to rent motorbikes in Menorca?".
Many of the car hire agencies in Menorca also take care of motorbike hire. You can find out prices and request a personalised online quote for motorbike hire in Menorca for your holidays.
Motorbike rental at Menorca airport and in Mahón
If you want to rent a scooter in Mahon we recommend MenorkMoto, an exclusive scooter rental company in Menorca.
Their offices are located very close to the bus station in Mahon, so they are very easy to reach even by public transport.
MenorkMoto also offers the possibility to pick you up at the airport and deliver your luggage wherever you want, the same for the return trip! They will collect your luggage from your accommodation and you will find it in their offices when you return the motorbike.
They will also give you valuable advice on how to visit Menorca by motorbike.
Have you decided to hire a motorbike in Menorca?
Discover MenorkMoto,
a local agency you can trust
Motorbike rental in other locations
If you're staying elsewhere in Menorca, don't worry! In many towns on the island such as Ciutadella, Cala Blanca, Cala'n Bosch, etc… You can rent a motorbike from a local agency that will give you the best advice for your holiday on two wheels.
How much does it cost to rent a motorbike in Menorca?
Prices for a scooter rental in Menorca are cheaper at the beginning and end of the season. During the months of July and August, however, they tend to be more expensive.
The cost can also vary depending on the number of days you want to rent the scooter: many agencies apply discounts for rentals of more than 7 days.
As a general rule, however, we can tell you that the average daily cost of a motorbike rental in Menorca can start from 27-28€ in the case of 110cc motorbikes and go up to 65€ for more powerful motorbikes.
The price can also vary if you decide to take out basic insurance with a deposit or if you prefer to drive at your own pace and take out premium insurance without a deposit.
Final tips
Finally, we would like to give you some tips for renting a motorbike in Menorca:
Go to local and trustworthy companies that can provide you with 24h assistance.
Protect yourself from the sun during the hottest hours: Menorca's breeze makes motorbike rides very pleasant, but be careful about getting sunburnt!
Wear a jacket at night: Menorca's climate is very humid and at night you will need a jacket to protect yourself, especially for motorbike rides.
Traveling around Menorca on a motorbike is very cheap and fun. With a few precautions to avoid danger, it can be a totally exciting trip!